With 40 years of landscaping, Gold Leaf has built a knowledge and skill base that provides its design team with the advantage of knowing what works, but more importantly what customers want. No matter what your landscaping needs are a little planning can save time and money.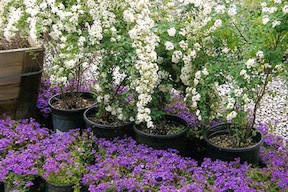 Nursery
What sets Gold Leaf apart from the other Landscape Contractors is that we grow the plant material. We know what grows in this area, just as importantly what does not. At Gold Leaf we can hand pick prime nursery stock while allowing customers to visually see how plants work together.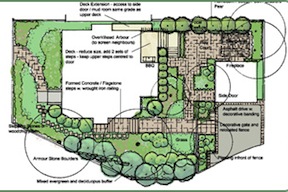 Set Of Plans
What makes Gold Leaf unique is we can take bare land and create a complete landscape from start to finish. We will plan your yard around all four seasons. With our in-house design staff, we have the ability to design for color, fragrance and sensation in your landscape, as well as hardscape, water features, and retaining walls.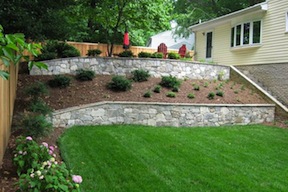 Landscape Installation
An established company, Gold Leaf has been a Landscape Contractor since 1975 with experience installing of residential, estates and commercial work. When we start a landscape job, we start with soil preparation. Understanding how soils work and how to amend them is the most important part of any landscape project. Call now for a landscape estimate or landscape consultation.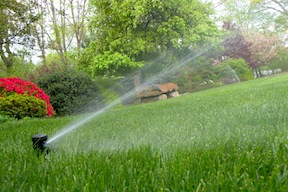 Irrigation System
Irrigation starts with proper design and installation creating the the right zones to match the right water requirements for plants and lawns. We only use the top of the line irrigation equipment from Rain Bird and Hunter. We also install drip irrigation; a low volume water irrigation system, that is installed with regulators and filters for years of maintenance free watering.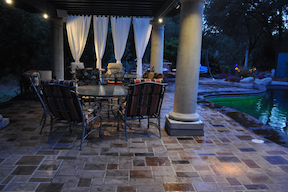 Embossed Concrete
We are the only local landscape company with our own in house crew to install concrete. Enhance your walk way, drive way or patio area with several choices of patterns and colors.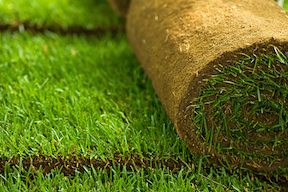 Sod
We are authorized dealers for Delta Blue Grass, the finest sod available in Northern California. Gold Leaf can do a complete installation or we cater to the do it yourselfers (DIY).